Profile Overview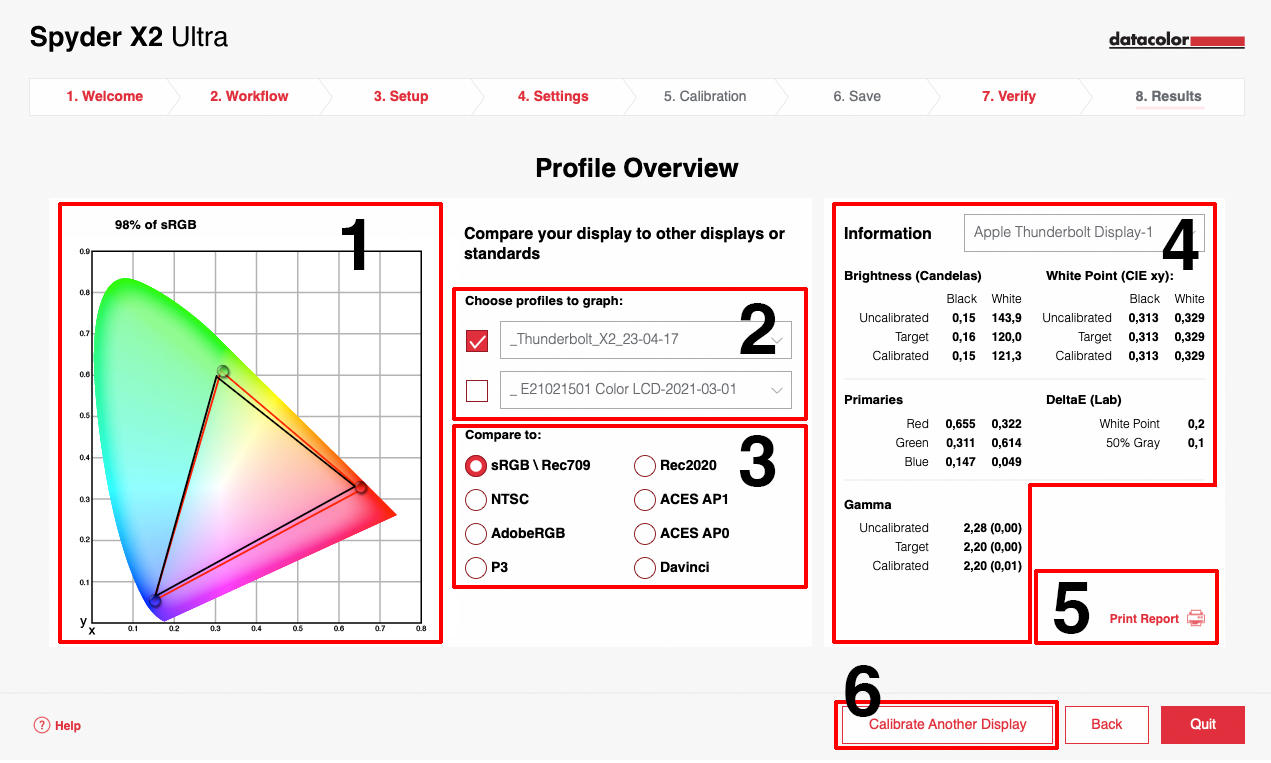 As a last step, you can review the profile Spyder X2 created for your display, compare your profile with standard color gamuts (color spaces) and generate a report with a detailed summary.
CIE Color Space Display

- The colorful shape in the center of the graph is the CIE color space, which represents the entire spectrum visible to the human eye.



Profile Comparison

- In the Profile dropdown ("Choose profiles to graph") your current display profile is selected by default. If you want to compare to other profiles, select them from the dropdown.
- This dropdown-list contains all display profiles created with the any Spyder calibration software.



Color Space Comparison

- To compare to a standard color gamut, click the radio button next to the one you want to compare to.
- A color gamut is a standardized color space with which you can work with.

- While AdobeRGB is the standard for photographic work, graphics on the web work best with sRGB.
- P3 is the abbreviation for DCI-P3, common standard for digital cinema and wide-gamut displays.
- Rec. 709, Rec. 2020 and NTSC are standards for video.
- ACES AP1, ACES AP0 and DaVinci (intermediate) are video post-production color spaces.



Information

- This report displays all the absolute values of the selected calibration. You can compare between the "Measured", the "Calibrated" and the "Uncalibrated" values.
- "Brightness" is measured in Candelas (cd/m2).
- "White Point" is displayed in CIE xyY coordinates.
- "Primaries" displays the CIE xyY coordinates of the Red, Green and Blue primary colors.
- "DeltaE (Lab) displays the DeltaE measurement from the target white point at 100% and 50% gray.
- "Gamma" displays the uncalibrated, target and calibrated gamma curve.
- The Delta E deviation for the White Point and the 50% Gray of your calibration shouldn't exceed 3.0 to be considered a "good" calibration.
- If you need a lower deviation tolerance, use the "Advanced Settings" options in the preferences menu.



Print Report

- This will open a new window to print a one-page overview containing the values inside the "Information" area and the visual color gamut comparison.


Calibrate another display

- Click the button to restart the calibration setup process for any additional connected displays or recalibrate the current display.