SpyderProof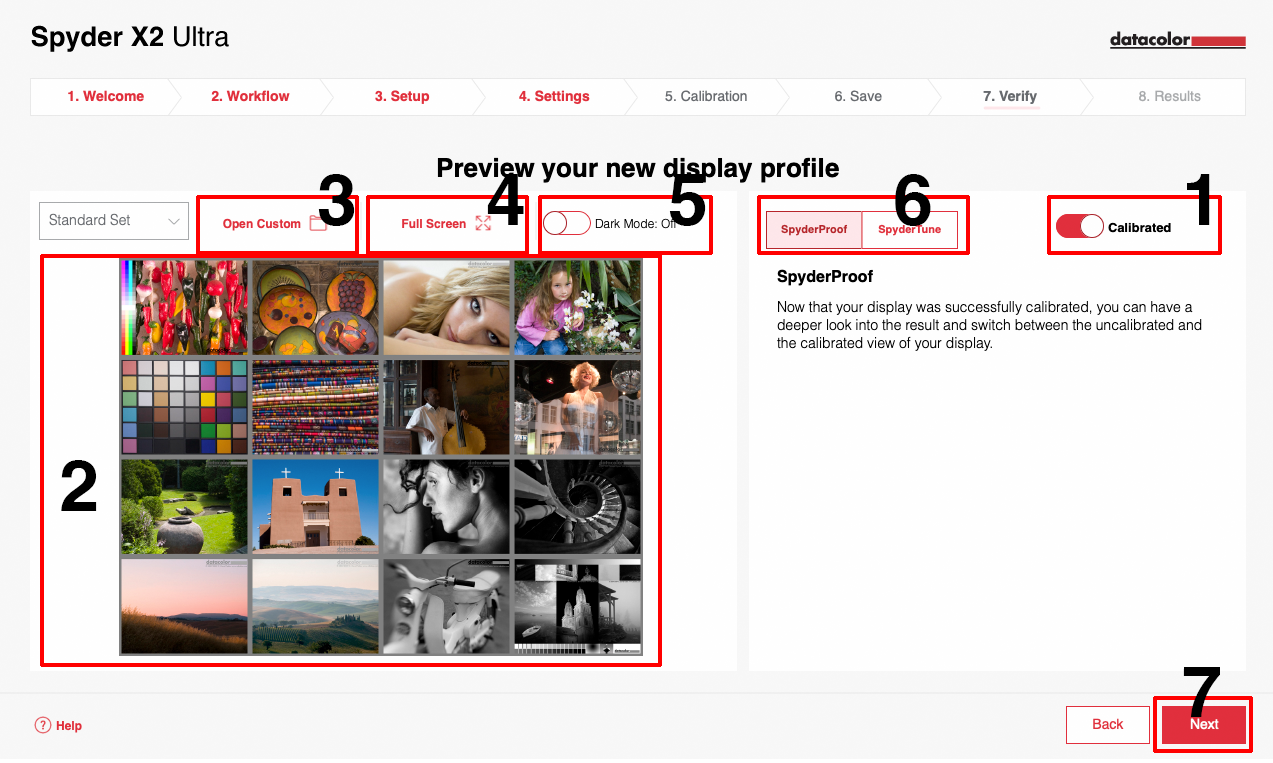 Change View

- Now that your display was successfully calibrated, you can have a deeper look into the result and switch between the Un-calibrated and the Calibrated view of your display. While this difference can be huge on some displays, you may only have a slight difference on other displays.

- You can change between the Calibrated and the Un-calibrated view using the switch at location 1.
- This disables the active calibration and resets the video card to its un-calibrated state.
NOTE: The calibrated view might seem unnatural to you as your eyes are used to the un-calibrated screen. Give yourself a few minutes to adapt to the calibrated state.


Standard Sample Image & Zoom

- You can zoom into the Standard Set of images inside SpyderProof. Each of these images is optimized to compare each singularity of the calibration individually (gray scales, saturated colors, skin tones, etc.)
- To zoom, mouse over the images and the pointer will change to a zoom icon. Click the images you wish to increase in size, first in sets of 4 images, then zoomed into a single image. Once you fully zoomed in, click the image again to return to the overview.



Custom Image

- To insert a custom file (TIFF or JPEG), you have several options:
- Click on the "Open Custom" button
- Select the option "Custom" to access the open file dialog.
- Drag and drop your images from the Explorer (Windows) or Finder (Mac) window directly into the SpyderProof area inside the Spyder X2 application.



Full Screen

- Click the "Full Screen" button to use SpyderProof in fullscreen mode. You can press the space bar to change between the Calibrated and the Un-calibrated view.
- Press any key or click the mouse to leave full screen mode.



Dark Mode

- A new feature in Spyder X2 software is the ability to view the standard set of images in dark mode, using a black background instead of neutral gray. This mode applies to the windowed and full screen view.
- Click the switch to activate and deactivate dark mode.

- Click this box to access the SpyderTune menu.